Reykjavik, on the coast of Iceland, is the country's capital and largest city. It's home to the National and Saga museums, tracing Iceland's Viking history. The striking concrete Hallgrimskirkja church and rotating Perlan glass dome offer sweeping views of the sea and nearby hills. 
CLICK ON IMAGES TO ENLARGE
THE SUN VOYAGER is a sculpture by Jón Gunnar Árnason, located next to the Sæbraut road in Reykjavík, Iceland. Sun Voyager is described as a dreamboat, or an ode to the Sun. The artist intended it to convey the promise of undiscovered territory, a dream of hope, progress and freedom.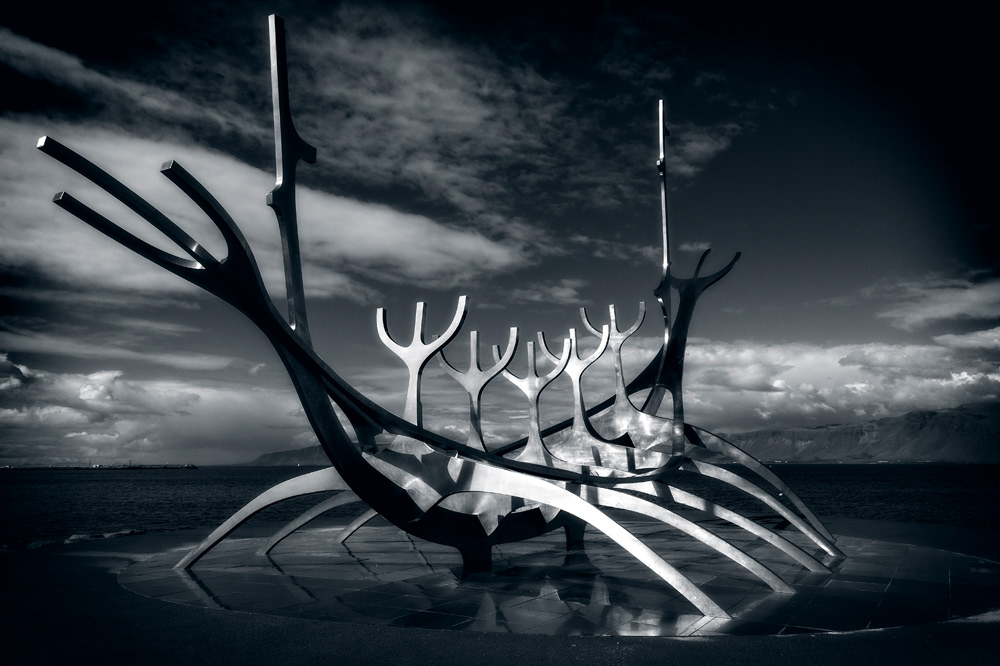 Hallgrímskirkja is a Lutheran parish church in Reykjavík, Iceland. At 74.5 metres high, it is the largest church in Iceland and among the tallest structures in the country. The church is named after the Icelandic poet and clergyman Hallgrímur Pétursson, author of the Passion Hymns. 

Perlan (English: The Pearl) is a prominent landmark in the Icelandic capital of Reykjavík. It is situated on the top of Öskjuhlíð hill. What was originally a cluster of hot water tanks was in 1991 converted to a building open to the public. It hosts an exhibition, a planetarium, an observation deck, and a restaurant.